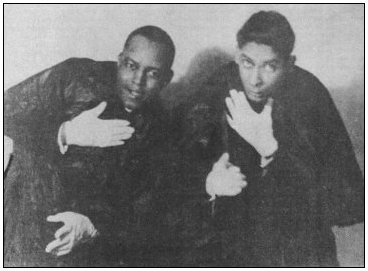 Jimmy Thompson (left) with Jelly Roll Morton
c. September 1917
The photograph was taken about September 1917 in Los Angeles where Thompson was an entertainer and comedian in vaudeville. In June 1917 he was working as an entertainer at the Cadillac Country Club Assn. in Watts city, Los Angeles County, California, and Jelly Roll probably worked there with him a month or two later. Thompson was born James Edward Thompson in Denver, Colorado on 6th January 1892. By the end of 1919, he had moved to Oakland, California where he continued as an entertainer in vaudeville. [34]

The photograph was first published in the JAZZ INFORMATION magazine, dated Friday, 25th October 1940, Vol. 2, No. 7.
Shown in Mr. Jelly Lord (1980) by Laurie Wright, page 4. Not shown in Oh, Mister Jelly (1999) edited by William Russell.
courtesy of Frank Driggs

© 2006 Ate van Delden Collection