Roger Richard talks to
Albert Nicholas
The following is a transcription of a series of taped conversations between Albert Nicholas and Morton researcher and enthusiast Roger Richard. Roger's questions were obviously aimed at broadening his knowledge of Jelly Roll, but at the same time Nicholas's answers ranged over a much wider field and will, we hope, be of more general interest. A certain amount of editing to preserve continuity has been necessary, but other than this, the words are Albert's own. We are grateful to Jo Beaton and Howard Rye who have spent many hours carefully checking over Roger's tapes and his original transcription.
Albert Nicholas, clarinet, born May 27th, 1900 in New Orleans?

That's right.

In what quarter was that?

It's in the Creole Section, French Quarter, Seventh Ward.

Was that far from where Morton lived?

No, same 'quartier'. I was born Lapeyrouse and Prieur, but that's just a few blocks away. Sidney and myself . . . we were born in the same 'quartier'.

And Jelly wasn't born in New Orleans?

I don't know. I thought he was from New Orleans. I know his people . . . his sisters and relatives . . . and I met his relatives through the years; they were all New Orleans people.

You are the nephew of Wooden Joe Nicholas, who used to play trumpet and clarinet?

That's right; he was my father's brother.

How did he get this nickname . . . what does it mean?

Well, when my uncle was very young, he liked to be outdoors. He used to go with nature . . . stay out for one or two days fishing and hunting in the woods, and bringing back birds and things like that . . . trapping them alive. At that time, when I was younger, back o'town wasn't built. Gentilly was all swamps . . . swampland which is now in New Orleans. It's the nicest part of New Orleans; it's the millionaire's quarter now. It's downtown . . . way downtown; Gentilly Terrace is going towards the lake. It's not uptown, you see, it's downtown. That's where he got his name 'Wooden Joe' . . . because he like to see woods.

Then, in 1913, you took lessons with Lorenzo Tio. Was that Lorenzo Tio Senior or Junior?

I took with Senior first . . . for about a year, then I took with Junior later.

How did you get interested in the clarinet?

Through my uncle . . . he was my great influence. When I was around eight, nine, years old, he was practising things like that, and it was magic to me to hear him play this thing, and I always wanted to learn it.

Weren't you interested in any other instrument?

At that time, in the beginning, no — just clarinet. I learnt on the piccolo; I learnt on the Knudsen (?) flute. Then when I was around ten, eleven, years old, my uncle saw I was so in earnest, so he got me a clarinet and sent me with Tio.

You say in some article that you played your first street parade with Manuel Perez's Onward band — would that be around 1913?

No, no that was later than that. I wasn't good enough to play in 1913. It was when I was fifteen, sixteen, before the war broke out. That's when I was really amounting to something. I was studying about five years, and limited, but I had a chance to play around 1915, 1916.

Papa used to give private lessons to the children of the neighbourhood. That was his hobby. He was a cigar maker by profession, and a first class musician. He played in opera and all, like that, and, for his hobby, he could tell; if the kids had music in them, he would teach them, and if they didn't, well, good-bye. That's the way . . . you know what I mean? It was his hobby; he could be in the room making cigars and have a class . . . about three or four of us at the same time. He'd tell you plenty of lesson and he'd know when you make a mistake. And if you'd practised, he'd know, and if you didn't practice, he would bawl you out. He was like a father, you know; he'd say, "Go and take the lesson; go back and study; you didn't study; you was playing ball." He was very strict, but when you did it right, he'd give you credit, you know what I mean. Oh! You couldn't fool him.

Did you play with Oak Gaspard and Kid Ory?

I didn't play with Kid Ory in New Orleans; I played with Buddy Petit in New Orleans. Kid Ory had his own group; that's uptown. Johnny Dodds was playing with Kid Ory when I was toddling up. I knew Kid Ory from when I was about thirteen, fourteen years old, because I used to go uptown to hear him on Sunday nights. It was Cole's Lawn they used to play at. It was a penny party deal. Johnny Dodds was playing much longer before me; he was playing four, five years before me, and I said, "My! Johnny Dodds also you see." Then, when I was about thirteen or fourteen, because he was playing beautiful clarinet . . . and Jimmy Noone was playing, and Sidney was ahead of me too, but we all came up at the same time. Sidney would sit on the sidewalk. Sidney gave me a lot of inspiration, because heard him in knee trousers and fourteen years old, Sidney was playing with men. So that gave me a lot of inspiration.

I did play with Oak Gaspard . . . he had the Magnolia Band, and his brother Vic was his trombone, and Oak played bass. Vic played trombone and baritone in a brass band with Manuel — Onward Brass Band. He was a wonderful musician. They had a six piece combo to play parties. So when I started out — I was fifteen, sixteen years old — I played with this band . . . the Maple Leaf Band . . . that's the name!

I enlisted in the navy in November 1916, and I was down in Cuba when the war broke out . . . and South America, but our base was in Guantanamo Bay, Cuba, Santiago, like that. When the war broke out on April 7th 1917, I was in Cuba. Then, two months, we come to New Orleans, stayed a few weeks, then went to Gibraltar. In June 1917 I was in Europe and stayed until 1919 . . . convoys, doing convoys, and I got transferred. . . .

I didn't come back 'til 1919 . . . December. I joined Buddy Petit when I came back in '19. It was Christmas week . . . I'd say 1920 because I didn't play in 1919. I sure didn't join a band; I would relax and listen to what was happening. Then Buddy Petit asked me to join him, and I did.

You didn't play at all in Storyville before the war?

I played in Storyville — not on a job. I played in Lorenzo's place when I was learning good . . . around 1916, before I went into the navy. I wasn't allowed into Storyville . . . I was too young, and my people would forbid me to go there. But I went anyhow to sit in with Manuel and them, to get some experience. Tio would say, "Go ahead, play," and then Manuel, the first time I came, he said, "Don't go too far," seeing I was going to the back because I was afraid if I could make it. So, if, after two, three numbers, Tio too thought I was improving, Tio would say, "Well, what do you think, Nick? O.K., O.K.," then, "Now you've come back." I can play about five or six numbers. Well, that went on for two or three months, but each time I go it's better and better. I played with experienced musicians helping me . . . showing me my mistakes.

You came back in 1919—20 . . . and you got a job at the Cadillac? . . . with Luis Russell?

The Cadillac! That's right! It was with . . . Luis Russell? No . . . this is wrong too. Luis Russell came in from Panama as a kid. It was Arnold Dupas's job, and I was the one who asked Luis Russell because I heard he was a young pianist and I heard him play. Then he came and joined with us.

I have never played with Peter Bocage . . . no more than a couple of gigs in my whole life, but I remember Peter Bocage when I was a baby.

Zutty was at the next corner. Zutty was playing at Burgundy and Conti and I was on Rampart and Conti at the Cadillac, one block away. Zutty was learning the drums then . . . he was an amateur . . . he was taking lessons from Old Man Cottrell.

(This recollection is at variance with Richard M. Jones' map in the 1944 Esquire Jazz Book, probably the source for that in Mister Jelly Roll, which shows the Cadillac at Marais and Iberville — J.B. & H.R.)

Willie Santiago wasn't there, it was another. Willie Santiago played with me at Pete Lala's at Rampart and Iberville. I formed the band with Luis Russell; then Barney got his tenor sax; then I got an alto, learning saxophone; Paul barbarin on drums. It was my group . . . I got a picture of the group.

In "Pictorial History of Jazz" there is a first photograph of you shown as being around 1915?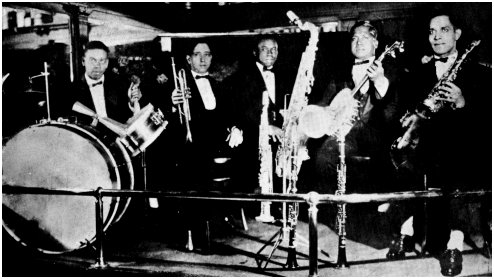 Albert Nicholas and his Orchestra at Tom Anderson's Cafe, New Orleans c. 1922
L to R : Paul Barbarin, Arnold Metoyer, Luis Russell, Willie Santiago, Albert Nicholas
That's wrong. That couldn't be 1915 . . . and that's not Manuel Perez, that's Arnold Metoyer. That was in 1920 or 1921 . . . after I left the Cadillac; that's Willie Santiago, me, Luis Russell, Arnold Metoyer and Paul Barbarin . . . that was my group.

In (Samuel) Charters' book it says that Barney could not improvise and that you could barely read, so you gave each other lessons . . .

I was just learning . . . sight reading. We did not do nothing because we was studying at the same time. He was taking lessons from Tio . . . and so was I. Barney could not give me any lesson. I read that nonsense on the back of a record thing I made in Chicago. That's bad!

You were at Tom Anderson's in 1922?

That's the place I was thinking of! Tom Anderson's! That's where the picture was made . . . that was in 1922 not, as they say, in 1915. That's a big difference . . . in 1915 I was going to school . . . I was fifteen years old. Come on!

Charters says that in 1923 Andrew Morgan remembers buying a clarinet from you?

I don't remember the incident, but I remember Morgan. I remember he was telling me about learning the clarinet . . . I remember that too. His brother Sam . . . he was a hell of a trumpet player . . . Isaiah and all of them — they were youngsters . . . come from the country outside of New Orleans.

Then in 1924 you were at the Arlington Annex again with Udell Wilson?

Udell Wilson was a hell of a pianist. Udell was with me at . . . after Russell left to go to Alexandria, where he got married. Udell came to Tom Anderson's. Arlington Annex? I don't know what this is . . . I never heard of the Arlington. I played with Udell at Anderson's . . . at Buntze's (?) place . . . Oasis and Anderson's. . . .

From this place, from Tom Anderson's, I went to King Oliver . . . me, Barney and Paul went to Chicago, because Willie was giving us hell, "Say, what you all goin' up there and freeze to death up North?" . . . and then the people who owned the joint — we were young, prominent musicians, very ambitious — coming up to Santiago because, "You guys are too much for New Orleans now; you done pass it; go ahead and up North. You'll enjoy it." . . . that's what we did.

Joe Oliver called you to Chicago?

That's right. I did a thing in a tour with Barney; then I came back in November. When I went back, Russell (had) the band at the Anderson. I went back with the band and told 'em about how nice it was in Chicago and what was happening, and when King sent for us again, we all came together on the same train.

I'd heard of Morton in New Orleans, but I hadn't met him in Chicago when I came to join Joe in '24 . . . but I heard of Jelly Roll Morton at 12 years old. He was a big musician . . . his name was big, and his picture was all over. Musicians all talking about Jelly Roll used to call him 'Winding Boy', "Winding Boy plays beautiful piano."

Then I heard the records Jelly Roll made when I came out of the navy in '22 and '23 . . . before I went to Chicago . . . impressed me very much. Piano rolls and jazz was just getting popular . . . because of the Dixieland, New Orleans Rhythm Kings. . . .

Did you hear of the places where Morton used to play in New Orleans?

Yeah! Lulu White! I don't know about playing in clubs . . . Jelly Roll was playing in the sporting houses. He never played these clubs, like musicians . . . gigging and playing. No! Jelly was a big-time entertainer. You see, Storyville was wide open. You had these places like you have in Paris . . . you know, private houses where he had a piano and the landlady served champagne for rich people, and all that . . . for pleasure. Jelly was entertaining in there. Lulu White is one. Basin Street was loaded . . . that's where you had all the big houses. But, I forgot. That was when I was fourteen years old, and I didn't know too much about the district. When I was sixteen, I played that "Rice's" place and at Pete Lala, same with King Oliver, the time before he went to Chicago. I never heard Morton in New Orleans, as I say. I never seen him . . . yet he must have played in New Orleans before my time. I didn't hear him — I was too young — but I heard so much of Tony Jackson. He was supposed to be one of the best . . . everybody spoke so. Tony Jackson was a thing like Tatum at that time . . . this was around 1911, '12, '13 and '14.

What is the meaning of "To-Wa-Bac-A-Wa"?

That's Indian. That's during Mardi Gras Day. The Indians in the Creole section, they massed and Creoles put on Indian costumes . . . masqueraded. They had this dance — "To-Wa-Bac-A-Wa" — imitating the American Indians. . . . I don't know if it's a thing the Creoles composed. The Creoles were like these people in Jamaica — the Calypsos. They always take rhyming things . . . they could take anything and rhyme . . . they were creators! They would take a little snag and make a good song out of it. Well, it didn't mean nothing.

We came there (Lincoln Gardens); there was that fire; and then we had offers with other bands. We didn't want to let the union know that Joe Oliver had sent for us either, because that's trouble. They were jealous of the New Orleans musicians in the Chicago local, and King . . . everytime . . . he was replacing his men with New Orleans musicians. All of us could play. Chicago musicians didn't have no scheme . . . they were playing Mickey Mouse jazz . . . they could read, but they couldn't jazz.

I played with Oliver long before he went to Chicago — a couple of gigs — that's parties. So after he got this offer that they were going to open up at the Plantation, and he wanted to change his band from a six-piece to what music was changing (to) at the time — they was playing saxes and Johhny Dodds didn't play no sax — and Oliver wanted another type of band . . . that's why he got Barney, and I was doubling. I was playing alto and Barney was playing tenor, so we had a team. He got Darnell Howard on the other alto and violin. Darnell was a violin player . . . he was not a saxophone or clarinet . . . he'd just be that on the side.

(We went) straight to the Plantation. We waited two or three weeks. That's when I made that gig with Jelly Roll . . . I'll tell you about that gig on Saturday night. That was the first gig I played in Chicago . . . it was with Jelly Roll. We were waiting to go with King Oliver, and we didn't want to let the guys know, because we had offers. Everybody wanted us! We kept saying, "We don't know how long we gonna stay in Chicago," because King sent for us. So when we signed this thing for the Plantation, we went to rehearsal. That's the first time I met Jelly Roll in person. It was no college date. You see, in those days you had public balls on Saturday nights in different parts of the West Side . . . of the South Side . . . those big auditoriums, they had a ball . . . local band, and admissions to come in. It was packed; we played one of those things.

Did you ever record with Morton in Chicago?

No, never in Chicago. Jelly was free-lancing. Jelly had no band when I came round . . . he would play . . . make record dates. Jelly was not playing in no clubs or nothing in Chicago. He'd pick up those good enough to make a record date, and finish . . . he didn't want to be bothered with no band. Jelly had good royalties from his tunes . . . he was a composer and he was doing all right.

Jelly Roll was supplying material to the publishing company . . . he was a composer — an artist . . . but they beat him out a lot of money . . . all those tunes he's putting out, and he put out a lot of stuff, he got paid for some of them, but they flim-flammed him, and that's why he came to New York. That's why the man died broken-hearted.

He got the musicians that nobody heard of . . . and he'd make good arrangement, and he'd make a record with them . . . that was Kansas City at that time . . . St. Louis and things. . . . You see, those were good musicians at that time . . . they were readers . . . they played right for the time . . . and that was it!

I was young and new up in Chicago. I wasn't a great mixer . . . I came to play for King Oliver. We got to play from nine, to three in the morning . . . ten to three . . . you didn't have time to go and listen to nobody else. They came to listen to us . . . we were popular . . . they came, the few I met. Like Charlie Cooke's band that was playing at Harmon's Dreamland — Freddie Keppard! . . . we heard him in the first few days we arrived in Chicago . . . me and Barney, because we wanted to hear the thing, and Cooke had a great band . . . Jimmy Noone featured on clarinet. He had a full reed section with all his saxophones, and two trumpets and two trombones — a seventeen piece band. Cooke played organ and Russell played vibraphone with the band . . . he was waiting to come with Joe Oliver, you see . . . he was keeping it quiet.

To go to China we left Chicago (for) California . . . got a boat in San Francisco. By train to San Francisco — Hawaii — Japan — China. When my year contract expired, Frank Ethridge and I left Jack Carter . . . wanted me for another year, but I had enough . . . one year in China was enough. I like to travel . . . if I just wanted to play music, I could stay in the States. We had a good job in the Plaza Hotel — good pay, no taxes . . . and at that time we didn't know what that was. Now, so instead of getting our transportation paid back to Chicago the way we came, we took it to go round. So that took us to Hong Kong, Manila, Singapore, Sumatra, Java, India, Egypt. We liked Egypt. I stayed a month in Singapore at Raffles Hotel . . . Frank and I did a little thing . . . they wanted to keep us, but we didn't. We just left Shanghai . . . the same thing, you know. When we got to Egypt, it was another thing — climate beautiful — interesting. I fell in love with the country — for something different — lively.

Cairo first . . . six months. Then in Christmas week . . . I think it was in December 1927 . . . we played at the Flamingo, then, a little club, Fantasio, and then the people wanted us. Mr. Buonomi was at Benedetti, at the Sheppard's. He heard us play, and he says, "Come and play with my band, and we could talk with the manager, because he would like to have some American musicians with us." They were playing stock arrangements, popular tunes . . . but just the way they were written. We went in there and we start, just one, two people, making the whole band sound different. The public wanted us right away. This is jazz! So the man says, "You want to stay — six months?" I told him I was coming back home. I don't know everybody; I'm on my way. So Frank says, "Can we make it?" He says, "What about the ticket on the boat?" The ticket was good for two years then . . . it was a German line. So after six months we made it. I liked Egypt very well.

When the six months expired, in June, I had got friendly with the band . . . we got close. We got the best sounding band in Egypt. So they all said, "We'd like for you to go to Alexandria, the Casino, San Stefano" which belonged to the same company, "for six months." So I say, "I have to mess my plans . . . I want to go to Europe, and then to America." Frank stayed a couple of months, then went to Germany and left me. But I was in the band, solid, and I enjoyed Alexandria. The weather was beautiful . . . the ocean and breeze, swim every day, live in the hotel, room and board paid for, eat in the main dining room — it was a beautiful atmosphere, so I stayed there.

Now in October and November I decided I must make a trip . . . I've been away three years . . . I got to go back. I always thought when I left there I was coming back to that country . . . I went home for a vacation, but I stayed. So, from Alexandria, we caught a travelling boat to Marseille, and from and from Marseille by train to Paris for one week, waiting for my boat on a British line . . . on the White Star Line, from Le Havre to New York.

We catch the night train . . . arrive in Paris the next morning around six o'clock and I stop at the Malon Hotel on the Republique . . . I remember the hotel. That night I rested and slept in the daytime, and went out with the Egyptian students because I didn't know nothing about Paris. Paris was jumping then, and the Champs Élysées was really Paris.

So Sidney was playing at Chez Florence. I hadn't seen Sidney since we were kids together, but I heard he was in Paris. So I told the guys, "I want to see Sidney Bechet; they say he's playing at Chez Florence." But this was in Montmartre, and the guys said, "We don't go to places; this is expensive, and the men don't care for us to." Well, I can understand why . . . it's a club. The musicians that I seen in Paris were just hanging around and playing corn . . . gambling among each other . . . you see what I mean? They were isolated themselves. But, anyhow, I found out where Sidney was playing, and I said I'll go that night. So, around ten o'clock, I went there and sat at a table. I sat alone and I was looking at Sidney playing on the stand, and he looked up. He's looking . . . and looking, then he say, "You know something; I think I know that boy. He looks like somebody I know in New Orleans." So when they got to play two, three numbers I went up. I said, "What you say Sidney?" And he looked around, and I laughed. He said, "It can't be Albert. Oh my goodness! I told you I know that boy. You was in China?" I said, "Yeah, just got back." "I hear you was in China with Teddy Weatherford. How long you gonna be in Paris?" I said, Well, just one week as I have my ticket and am going to New York, and I've been away a long time and I must go home." I told him the hotel and he says, "Well, I come and get you tomorrow and come on and we'll have a little party in Montmartre."

His first — the wife that he married again — she was a young girl, a German girl, a dancer . . . she was young then. I remember that, and they had a bistro, and she remembers this . . . the day we had Albert to come over. We had a tough meat and I never complained because it was good, you know . . . tough and stupid home cooking . . . I enjoyed that home cooking. So we stayed around and talked, and each night I went Sidney said, "Bring your horn tomorrow night . . . you and I haven't played for a long time." I said, "A long time." "Well," he said, "but you wasn't playing saxophone before." I said, "Now I'm playing sax — tenor, alto, anything." He said, "Well, bring your horn by."

So the next night I came . . . I was playing tenor then, in China, I brought the horn by and we sat up and start moving, and the boss said, "Who is he?" So Sidney said, "Oh, he's just come from China out of Jack Carter's Band." "Ask him if he'd play. Sounds good." So Sidney said, "It's impossible, he's got his ticket, he ain't come to look for no job. This man just got from playing all over India and things . . . he won't stay!" "Well, if we could keep him for two months. . . ." "No, my ticket is for next week . . . I'm going home now!" But anyhow, I enjoyed that week. That's when I had the pleasure to know Paris . . . that's October 1928.

Paris was a different Paris than now. It was full of life! Ouf! You had cabarets . . . you had sounds . . . you had bands with four bass! Yes, I saw that! I went to a joint where they had four 'contrebasses', plus a cornet, playing 'typique' — South American. What sound! And you had violins . . . four, in clubs . . . night clubs . . . piano . . . I never heard nothing like that, no place! They were usually playing tangos and things . . . you know, the real thing in a place like that! Josephine Baker was at the Moulin Rouge or some place — I caught that show! Whizz! Costumes I never seen before. Then I went sight-seeing in the daytime, and the weather was beautiful . . . in a horse hansom there . . . the 'cheval'. And I went on the Seine . . . I came to the Latin Quarter. I was a young kid then, and you had music all over. Pigalle was just loaded with dance sounds. Bricktop had a place, and this boy from New Orleans, played clarinet also . . . not a big name . . . Creole . . . lived in Milan . . . raised up together. He never made a big name, but he could. His brother played good violin in New Orleans, but they was one of them funny jazz musicians . . . they wasn't too gutbucket, but he could play. He made a record with Louis and this fellow Charlie Alexander on piano . . . Pete Duconge! He was playing a nice little club where they had a little New Orleans sound.

Paris was swarming with bands . . . you had sounds all over. They weren't recorded . . . they didn't know jazz was there. Just like now, the Companies are getting the 'chansons' and letting the jazz slip. Italy's picking up on it now, 'cause they see that this other thing is going out. That Beatle thing is getting tiresome on the nerves, because the people who's paying the money, they don't buy that . . . just the children who buy those records. The records sell, but in a first class restaurant nobody wants to hear that stupidity. The people that make money don't want none of this . . . they want things that happen. You get the middle-aged people who can afford it, and they want what brings memories of the jazz age era . . . so that's why jazz will never go out. It's getting popular again, and when they see someone who knows jazz, they come . . . they listen. They will listen if you got something to offer . . . and that's what's happening right now again. It's gotta come back . . . you watch. Every two or three years you have some little gimmick that comes up, serves for a few months . . . gotta dance to something . . . it's popular. Now it's the Beatles and them funny clowns with all them funny names. And they see these monkeys now and the people say, "Wait a minute." Scandinavia's got enough of it! They've had it, and they want original sounds.

I took the White Star Line and I arrived in New York on October 28th. I'll never forget it! It was during the Hoover administration — Republican, and prohibition. Al Smith was running against Hoover for the Presidency, but he's a Catholic, so they mix him out. They kept this monkey Hoover, and we had our depression . . . and prohibition — then the gangsters took over the country until Roosevelt came in. I saw all that in New York . . . I saw it in Chicago too. Every week there was something, but not the band. We got used to that. We heard boom, boom, boom . . . and we would just play. It was like a movie.

I had a job offered me when I got there (New York). Russell said, "Get you an alto because Teddy Hill is with us on tenor. When can you start?" I say, "Oh, give me three or four weeks to relax." So I listen to this and I listen to that and I went to Duke. They was at the Cotton Club — Barney was with them — and building up Duke. They called the music at the time 'Jungle Music'.

I opened up at the Saratoga Club in 1929 and I stayed with Russell up until '33, then I went with Chick. I stayed four years, then I got tired of playing the same arrangements . . . I wanted a change. We had no time. We went to the Roseland . . . from the Saratoga Club to the Roseland . . . two months, back to touring theatres, back to the Saratoga — we worked two years without one week off! That's when I was with Jelly Roll . . . when we took a week off.

If that was Jelly's band, he could ask any price he wanted and got it, because the band was hitting. The band was together, and Jelly gave us his parts and we just went . . . boom. Jelly Roll took the band and went to Wilkes Barre, Pennsylvania. It was like in a park — it was private — and inside there's an auditorium. Every week they have out of town entertainment because Wilkes Barre didn't produce no musicians. You had people coming from Chicago . . . coming from New York — passing through one night as we call it. That's not bad as they travelled in those days . . . '31 . . . '32, I think, in the summer. In the winter we go in the south . . . in the summer we go east and north.

Was Jelly in New York when you came back from Europe?

He was there. I saw Jelly the first week I got in. Jelly had a band on 125th Street with Procope, Geechie, Swayzee, Pinkett and Tommy Benford on drums, his brother Bill Benford on tuba . . . he had a wonderful group. Jelly used to come in twice a night . . . just sat in, and play about half an hour. It was like a dancing school we called it . . . and he'd come and play the last set. He was there for a couple of years or so. He had that diamond in his tooth in 1929. When I first came in New York Jelly had a diamond ring that big. He had two cars, a Lincoln and a Cadillac, and, after that, when this job deteriorated on 125th . . . when he broke up his band, and the record companies beat him out of this money . . . and his publishing company beat him out of thousands of dollars . . . and Jelly started going on the down grade — then I didn't see the ring . . . but he had the tooth — he couldn't get it out! He had this big diamond, plenty clothes . . . he used to change two or three costumes a day in the summertime.

Jelly was very 'notoriety', we call it — you know, Jelly was very clever. One time he got a big cheque from the record company. He made another tour with us. He made two tours with Luis Russell's band. The second tour, you know what he did? For transportation, he had a Cadillac. He went and bought about five used Cadillacs. It's true! And when the tour was over, he said, "You want it?" I said I had a car, so what would I do with it . . . I had no garage — I had just paid the garage — I lived on a hill and I had just bought a small Pontiac. And Jelly said, "You can have it if you want it." He had all these things put in a garage and he sold them after.

Jelly was unpredictable. I never saw Jelly drink or smoke you know . . . he wouldn't drink in the thirties, 'cause he didn't like musicians who drink too much . . . he was very particular. Don't be late either . . . he'd give you hell if you were late! I remember he had a ruffle about two or three months around New York and you didn't see Jelly often. He'd come up at night time, and at the Rhythm Club he'd talk a little while, and then he'd go home and he didn't mean right. Then one day . . . it was in the spring of the year . . . musta' been around May . . . the middle of may, he touched a big cheque . . . a royalty. He got a connection and got his loop, and Jelly was very slick . . . he didn't say nothing. He bought another Lincoln and he put it in a garage . . . nobody seen it, he had it hid away in the garage. And when the weather was nice and spring, and corn was like flies, guys at the Rhythm Club and everybody standing at the corner, and Jelly came round five o'clock in the evening. Jelly was smart and he had a new costume and he was coming. "Eh look, it's Jelly! Musta hit the jackpot!" And Jelly came on the corner, you know . . . he was cool. "Eh Jelly, you're sharp man!" "Oh, I just stay sharp all the time you know!" So he talked and talked to all of us guys, and finally Red Allen came on the corner and Jelly said, "Eh! My New Orleans boys! Excuse me just a minute, fellows." He went across the street to the garage . . . direct from the Rhythm Club, there's a garage. About two minutes, five minutes later, Jelly drove out of that garage with that great big brand new black Lincoln and come to the corner. You had one way traffic. He pulled out and we looked, "That can't be Jelly." And Jelly got to the corner. "Albert, Ray, my New Orleans boys. Come on! I want to go to Central park so I can make a turn." To make a turn, he has to go to Central Park! — because his car is so long, you know. And we got in his car and the guys were so. . . . You see, that's how Jelly was when he was up . . . he was always flashy . . . he was when he was up.

He wanted New Orleans musicians. He liked all of them. I used to get kind of nervous. He used to say, "Oh, man! You cats up here can't play now . . . only New Orleans musicians can really play jazz. You monkeys can't play no jazz." So they didn't like that, you know. They'd say, "What you mean?" "Oh, shoot me, nothing." . . . that's the way he was, you know.

We did it in the studio about an hour and then you record. They're all musicians. He'd know know what he wanted to do . . . he had his titles all ready . . . he composed his numbers.

What does "Mississippi Mildred" mean?

A chick from Mississippi.

And "Jersey Joe"?

That's the same thing.

"Sweet Peter"?

That's a dirty one. Peter is the private. And it says 'Sweet' — like "Man, I got a Sweet Peter." The public don't know that . . . they think it's a name.

It's the same as 'Jelly Roll' really?

Well, Jelly Roll is a cake . . . but it's got another meaning too.

And "Mint Julep" is a kind of mixture?

No, that's a drink. That's a southern drink from Kentucky with mint and bourbon — 100 proof.

I remember Wilton Crawley. I remember that session . . . I heard about it, I wasn't on it but Red was on it. Crawley was a comedian on clarinet. He could play blues, and that's all he could play . . . two blues but he played them. And I remember that they told us they laughed about this thing. Old Crawley happened up for this session . . . two hours to play this one number, and couldn't get it. You see he was so used to playing this in his act. (He played clarinet whilst doing contortions — L.W.) So, after this went on for so many times, Red say, "Eh, man, do your act! You know, do your act!" And he start playing and he start going back . . . goes back all the way to the floor, and they took the mike and followed him all the way through. That's how it really came, and Red said, "Man, that cat. If it wasn't for me tell him 'Do your act', we'd be there yet." I remember Crawley . . . he was funny.

I was in the Howard Theater (Washington) playing that week when Jelly was in a little club . . . some little house. Most of the band went by. He had a piano in there, and we sat in and jammed with them. Happy to see him, but then I heard that he had some trouble in that place . . . few months later, I heard that Jelly got into some trouble . . . and Jelly got cut or something like that.
§ § §
The above article was published in the Storyville magazine, No. 57, dated February — March 1975, pages 86—96.

Special thanks to: Laurie Wright, Jo Beaton, Howard Rye and Roger Richard.

© February — March 1975 Laurie Wright